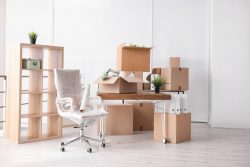 Moving to a new location, especially when it involves relocating across the country, can be a major undertaking. From packing up your belongings to finding a new home, the entire process can be overwhelming. One of the most important decisions you'll make during this time is choosing a reliable nationwide moving company to assist you. To help you through this selection process, we've put together some key factors to consider.
Research and reviews
Before committing to any moving company, it's crucial to do thorough research. Start by gathering recommendations from friends, family, or colleagues who have recently moved across the country. Their personal experiences can provide valuable insights into the quality of service provided by different companies. Additionally, browse online review websites such as Yelp or Google to read reviews from other customers. This will give you a broader perspective on the reputation and reliability of different moving companies.
License and insurance
Another important aspect to consider when choosing a nationwide moving company is the company's license and insurance. Ensure that the moving company you choose is properly licensed by checking with the Federal Motor Carrier Safety Administration (FMCSA). A licensed company implies that they meet the necessary legal requirements and are authorized to transport goods across state lines. Alongside licensing, verify if the company has appropriate insurance coverage that will protect your belongings during the moving process. This will give you peace of mind knowing that your items are protected in case of any damage or loss.
Services offered
Different moving companies offer various services, so it's crucial to choose one that aligns with your specific needs. Start by considering the type of move you're undertaking. Are you moving a small apartment or an entire house? Do you have any special items that require specific handling? Ensure the moving company you choose has the capability to handle your specific requirements. Additionally, consider if you need any additional services such as packing and unpacking, storage facilities, or vehicle transportation. By understanding your needs and matching them with the services offered, you can ensure a smoother moving experience.
Moving estimates
Requesting and comparing estimates is an important step in choosing a nationwide moving company. Reach out to multiple reputable companies and ask for detailed quotes, ideally in writing. Legitimate moving companies typically offer in-person or virtual surveys to assess the items being moved and provide an accurate estimate. Be wary of companies that provide significantly lower estimates than others, as this could be a sign of hidden fees or poor service quality. It's also important to understand the terms and conditions associated with the estimates, including any additional charges that may apply.
Experience and track record
Moving your belongings safely and efficiently across the country requires experience and expertise. Consider the experience and track record of the moving companies you're evaluating. How long have they been in business? Do they have a history of delivering on time? Request references from the companies and reach out to previous customers to inquire about their experiences. A moving company with a solid track record is more likely to provide reliable and efficient service, giving you peace of mind during your move.
Customer service and support
During the moving process, you'll likely have questions and concerns that need prompt attention. This is why it's essential to choose a nationwide moving company that provides excellent customer service and support. Look for companies that have a responsive and knowledgeable customer service team that can assist you throughout the moving process. This can make a significant difference in your overall experience and help address any unexpected issues that may arise.
Conclusion
Choosing a reliable nationwide moving company is a critical step in ensuring a smooth and successful move. By conducting thorough research, checking licenses and insurance, considering services offered, analyzing estimates, evaluating experience, and assessing customer service, you can make an informed decision that will ease the stress of the moving process. Remember, a reliable moving company will handle your belongings with care, making your transition to a new home far less daunting.
Got Questions? Let Us Help!
Since 2000, A Plus Storage Corporation has been providing the greater Plymouth area with state of the art, climate-controlled storage units. A Plus Storage Corporation provides storage units of various sizes, with both internal and drive-up units available. We are a locally-owned, community-focused business that provides fair priced storage units to our customers in Plymouth County. At A Plus Storage Corporation, we take great pride in our work. We take customer service seriously, and you will quickly see why A Plus Storage Corporation has passed the test of time. Give us a call or visit us today to find out what sets A Plus Storage Corporation apart from the competition. Ask about how you can get your third month free!
Categorised in: Moving Company