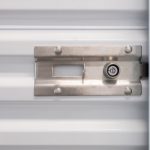 Running a business requires careful management of assets, goods, and equipment. As your business grows, so does the need for additional space to store these items. While some entrepreneurs may opt to overcrowd their offices or lease larger commercial spaces, utilizing a storage unit is an often overlooked and cost-effective solution. In this blog post, we will explore the benefits of using a storage unit for your business assets, with a focus on both pricing and money-saving aspects.
1. Cost-effectiveness: Save on Commercial Rent
By utilizing a storage unit for your business assets, you can avoid the expensive costs associated with leasing commercial premises. Renting office space comes with additional expenses, such as utility bills, maintenance fees, and sometimes even property taxes. In contrast, storage units provide a convenient and cost-effective alternative, offering flexible rental terms and reducing your overall overhead costs. This savings can be reinvested in other areas of your business, such as marketing campaigns or hiring additional staff.
2. Expanded Storage Capacity
One of the primary advantages of utilizing a storage unit is the ability to access additional storage capacity. As your business flourishes, you may face challenges associated with limited office space. By using a storage unit, you can declutter your workspace and create a more organized environment. This helps increase overall productivity and efficiency by having all your assets neatly stored elsewhere while remaining easily accessible whenever needed.
3. Enhanced Security Measures
Keeping your business assets secure is paramount. Storage units provide a safe and reliable solution, equipped with advanced security measures. Quality storage facilities often have surveillance systems, secure access control, and individual unit locks that protect your valuable assets from theft and damage. By investing in business asset storage, you can have peace of mind, knowing that your equipment, inventory, and valuable documents are well-protected.
4. Flexible Storage Solutions
Every business has unique storage requirements. Whether you need to store inventory, furniture, or archives, storage unit providers offer flexible solutions to meet your specific needs. With a wide range of unit sizes available, you can easily select the one that perfectly accommodates your business assets. Furthermore, many storage companies offer convenient add-on services such as climate control and 24/7 accessibility, ensuring that your items remain in optimal condition and are accessible whenever required.
5. Streamline Operations and Improve Efficiency
Organizing your assets in a storage unit enables you to streamline your operations and enhance overall business efficiency. By decluttering your workspace, you can create a more functional and productive environment. This makes it easier to find and retrieve items when needed, reducing downtime and improving workflow. Additionally, a clean and well-organized office space can positively impact employee morale and client perception.
Summary
Utilizing a storage unit for your business assets offers numerous benefits that extend beyond cost savings. By reallocating funds from expensive commercial rent to other aspects of your business, you can maximize growth opportunities and improve profitability. Storage units provide increased capacity, enhanced security measures, flexibility, and improved operational efficiency. When considering your business's storage needs, explore the advantages of using a storage unit and unlock the potential for a more organized and successful enterprise.
Need a Storage Facility in Kingston, MA?
Since 2000, A Plus Storage Corporation has been providing the greater Plymouth area with state of the art, climate-controlled storage units. A Plus Storage Corporation provides storage units of various sizes, with both internal and drive-up units available. We are a locally-owned, community-focused business that provides fair priced storage units to our customers in Plymouth County. At A Plus Storage Corporation, we take great pride in our work. We take customer service seriously, and you will quickly see why A Plus Storage Corporation has passed the test of time. Give us a call or visit us today to find out what sets A Plus Storage Corporation apart from the competition. Ask about how you can get your third month free!
Categorised in: Storage Tips, Storage Units